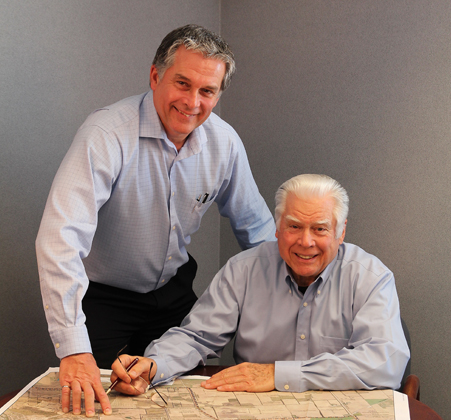 Quality that builds communities
In 1954, a young, talented plastering contractor by the name of Harold Freure decided to use his eye for detail and passion for building and create a complete home. He soon found his homes to be increasingly popular with growing families in Waterloo County, and from that first home on Suffolk Street over 60 years ago, the company that Mr. Freure founded has expanded and created over 13,000 new homes.
Freure Homes has also had a hand in designing and building schools, churches, shopping centres, offices and factories.
Home building is a tough business, but the longevity of Freure Homes as a local homebuilder is a testament to their continued commitment to quality and to customer service.
Drop by one of our gorgeous current communities in Kitchener & Cambridge, or past communities in Komoka and Stratford, we are certain the quality of our product will speak for itself.
Our sales representatives are ready to chat and to provide you with any information you need during your home purchasing process. So stop looking and find your dream home today!
Awards
Freure Homes is a proud recipient of many awards including:
Builder Member of the Year President's Award & Service Excellence Award from the Ontario New Home Warranty Program
Best Overall Design from the S.A.M Awards
Home of the Year from the Chatelaine Magazine
Community Involvement
Freure Homes would like to extend our most sincere thanks to all the organizations that have chosen to honour us in the past. Freure Homes believes in working with other local companies in Kitchener-Waterloo Region and have the utmost respect for the companies we associate with.
We have been continually working with these businesses for many years, and we stand by their excellent quality and workmanship.
Visit our sales offices for more information on how you can build your dream home with us!
Working together to build the future
In 2006, Freure Homes teamed up with the Waterloo Regional School Board to participate in the Ontario Youth Apprenticeship Program (OYAP). This 'School to Work' program opens the door for students to explore and work in apprenticeship occupations starting in Grade 11 or Grade 12 through the Cooperative Education program.
Through Freure Homes, this gives students a chance to participate in the construction of a home. Once the foundation is poured, and the backfilling is completed, it's up to the students to build the home from the foundation up. A teacher with a background in construction assumes the role as the job foreman.
In total, there have been 6 houses built by this program in both Kitchener and Cambridge. This excellent program allows students to gain experience and knowledge in the construction field to help select a career later in life.
*Freure Homes attempts to ensure that the information on this website is current and accurate, but cannot agree that all information presented is up-to-date or free of errors. We therefore urge you to use this website for information and illustration purposes only. Please consult a sales representative at our sales office for the most current and accurate information. All floor plans, elevations and site maps are artist's concepts only, and actual appearance may differ. Floor plans and room dimensions may vary for elevation style. Actual usable floor space may vary from the stated floor areas. Subdivision configurations, specifications, dimensions, plans, elevations, prices, terms, conditions and all other information contained on this website is subject to change without notice, and is subject to construction variances. Information at the sales office will prevail over any inconsistency or disagreement with the information on this website. E. & O. E.*